Client of The Month - Valerie Upham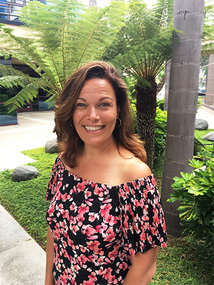 Louis Tommasino CPA & Associates
September 2017 Client of the Month
Valerie Upham, Realtor

Spring Break! Those two words bring back fond memories to many of a vacation from the rigors of study and college life in general. Our September Client of the Month Realtor Valerie Upham, SRES, discovered San Diego on spring break. Born and raised in Des Moines, Iowa, Valerie had seen enough of the long, cold winters in the Midwest. It was not long after visiting San Diego that she made the decision to move here. 22 years later, Valerie has no regrets. Today, she and her husband live in University City with their 3 children.
LTCPA: You grew up in Iowa and talk about "Midwestern Values". Tell our readers what the term means and how it helps you in your real estate business.
VU: When I think about Midwestern Values I think of family, education, and a strong work ethic. I enjoy working with families and am a strong believer in education. I also believe to be successful you need a strong work ethic. That means being available when your clients need you to help them solve a problem.
LTCPA: What do you like most about helping people sell or find a home?
VU: In this market, I love it when I can get a seller more than the asking price. I like problem-solving and connecting others involved in a real estate transaction. I am a "people person" and the feeling of being a hero to my client when the end-result exceeds expectations. I feel it is my obligation to be a "calming force" and easing the stress in their lives.
LTCPA: You mentioned "this market". What is going on in our market place today?
VU: We are currently seeing a shortage of homes (inventory) for sale. People are staying put in their homes. Property values have moved up substantially in recent years (particularly new construction), pricing out many buyers and keeping people in their current homes. Homeowners are opting to improve their homes rather than sell them as is evidenced by the record earnings announced recently by Home Depot.
LTCPA: You talk about innovative selling techniques like staging. What is staging?
VU: A seller does not necessarily live like a potential buyer lives. You want the buyer to visualize what it would be like for them to live in your space, not with your belongings in that space. Sometimes we recommend the seller hire a staging company to present the home in a more appealing manner either with furniture repositioning, updated décor, or adding furniture.
LTCPA: One of your target markets is seniors. You are a certified Senior Real Estate Specialist (SRES). What are some of the unique challenges seniors face when selling a home?
VU: Seniors have many challenges. A major challenge is deciding what to do with belongings that they are not quite ready to let go. Homeowners may not be aware of senior moving companies, estate liquidators, or "clean-up" companies as a solution to helping them through the process. They also may not be aware of the Senior Real Estate Specialist (SRES) certification that heightens a realtor's awareness of physical impairment, the desire to age-in-place, downsizing, conflicts between adult children, and independent (socialized) living.
LTCPA: What is the best advice you can give someone who is considering selling a home?
VU: Probably the best advice is to eliminate clutter and excess. Thin out bookshelves, surfaces, and closets. Potential buyers will be looking in your home. You don't want them focusing on your belongings when they are trying to envision their life in your home. A clean and organized space gives the impression of a well-maintained home making it more desirable, therefore increasing the value.
LTCPA: Thank you Valerie!
-----------------
Valerie Upham, SRES is a realtor with Coldwell Banker Residential Brokerage. You can contact Valerie by phone, email, or through her website.
Phone: (858) 761-7890
Email: Valerie.Upham@Compass.com